CARPAL TUNNEL SYNDROME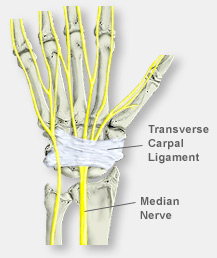 Carpal Tunnel Syndrome (CTS) is a compression neuropathy, i.e. a pinching of the median nerve within the wrist. The carpal tunnel is a bony canal within the palm side aspect of the wrist that allows for the passage of the median nerve to the hand.
Pinching or compression of this nerve by the transverse carpal ligament sets into motion a progressively crippling disorder which eventually results in wrist pain, numbness and tingling in the hand, pain consisting of a "pins and needles" feeling at night, weakness in grip and a feeling of incoordination.
Who Gets CTS?
This disabling syndrome occurs more often in women than men, by a ratio of 3 to 1, usually between the ages of 30 and 50 years. Also, CTS is seen more frequently in people who tend to do forceful repetitive types of work, such as grocery store checkers, assembly line workers, meat packers, typist, accountants, writers, etc. Most patients generally visit their doctor with these complaints, and the diagnosis is confirmed after physical examination and appropriate nerve testing.
How is CTS Treated?
Treatment for CTS depends upon the stage of the disease. In the early to moderate stages, the syndrome may be reversible and is most often treated with appropriate modification in activities, a removable wrist brace, and anti-inflammatory medicines. Surgical intervention in CTS is only indicated in those patients in whom non-operative treatment has failed to eliminate their symptoms. In patients with advanced disease, and especially in those who have profound weakness or muscle atrophy, surgical intervention should be done early. CTS should not be left untreated because it can eventually cause permanent nerve damage.
THUMB (CMC JOINT) ARTHRITIS
This is the most common location for arthritis in the hand is due to wear and tear with use of the thumb throughout the patient's years.
There is no cure for arthritis but there is treatment falling into three categories; no treatment, conservative, and surgery.
Surgery -- as the last resort, when conservative treatment has failed -- consists of a joint replacement using the patient's normal body tissues and involves excising the arthritic bone and replacing it with a tendon taken from the wrist which is rolled up into a ball and used as a spacer and a portion of it is used to reconstruct the ligament. This is done through a small incision at the base of the thumb and a smaller incision at the base of the wrist to harvest the tendon used for the graft. It is an outpatient procedure performed under axillary block where only the arm goes to sleep. The patient is immobilized in a splint for two weeks, then a thumb spica cast for two weeks and then uses a removable custom made splint for two months while they are undergoing therapy for their thumb.
The first month is to regain range of motion and the second month to regain strength. This concludes a three month postoperative rehabilitation protocol. Patients have a very good success rate with this surgery.
Before surgery is considered, conservative treatment is attempted which is aimed at alleviating the symptoms of arthritis. This consists of use of a splint, possible anti-inflammatory medications, possible icing, and occasionally a cortisone injection which usually give good but temporary relief.